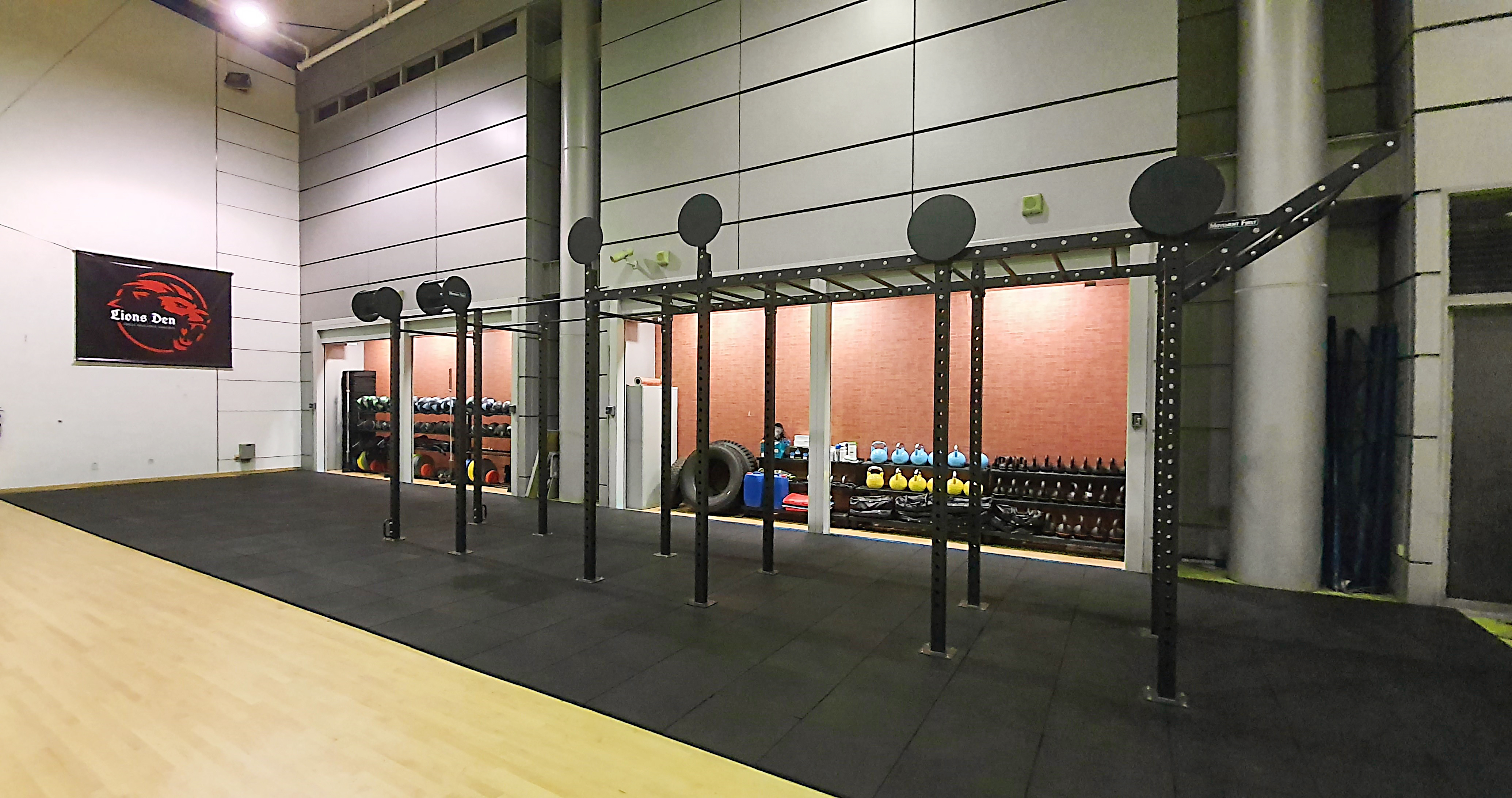 Functional Training Rig at Police Cantonment Complex
At Movement First, we believe in training the body as a single efficient unit. As we say, treat the body as the machine, not with machines. 
What sets Movement First apart? An empowered and knowledgeable team, great products and exceptional service. By placing the athlete at the centre of our vision, we bring in products which would build qualities ideal in any athlete: Speed, Strength, Agility, Power, Stability and Conditioning. Our products will improve sports performance or rehabilitate injuries.
The Movement First Way
Used by Red Lions

Our philosophy is simple. Proper training is hard. Do not expect shortcuts. Too many are enamoured by gimmicks and want to buy a quick-fix. They even think of their purchases (1,2,3,4,5) as "investments". We want to be the solution to the lies perpetrated by the fitness industry in Singapore.

We provide solutions to the military, police and fire fighters. We also supply to all levels of schools: primary to tertiary ; international private schools as well as many sports clubs in Singapore and South East Asia. We have the athletes' best interests in mind. 

Our phone number is +65 6481 0412 and we answer the phone at all times during working hours. Our email hello@movementfirst.sg is replied speedily. You can also Whatsapp us at: 9144 7327.
Our Team
Movement First, as part of Javy Group Pte Ltd, is a company formed by athletes, serving the athletic population. We are not kidding when we say we treat our mission very seriously! Each of us is passionate about a wide range of sports, from powerlifting, strongman, bodybuilding, track & field, rock climbing and even taiji! As such, we bring our experiences who have gone through the training and most forms of common injuries to advise you what training is most effective for your goals and how to recover quickly through injuries.

Most of the items listed are almost always in stock, unless stated as a pre-order. This allows you to quickly get the tools you require for your training needs. 

Our aim is to be authentic, sincere and genuine to help you find equipment that will meet your needs.

Our History
| | |
| --- | --- |
| Our warehouse in 2011 - at the back of a workshop and only 300sqft!  | We moved into this warehouse in 2018 - 14000 sqft over 3 levels. |
The late Steve Jobs said: "Your work is going to fill a large part of your life, and the only way to be truly satisfied is to do what you believe is great work. And the only way to do great work is to love what you do. If you haven't found it yet, keep looking. Don't settle. As with all matters of the heart, you'll know when you find it."

It does not matter whether you are exercising alone at home, a freelance trainer, a boot camp instructor or a gym, what we aim to do is to provide the best equipment so you can train effectively. We will help you create the best training environment with our tools. We truly believe in what we do.

Movement First was started many years back because we realized that many fitness products were impossible to find in Singapore. As someone who was previously managing a gym, there were many tools which we wanted for our clients, but they had to be imported from overseas, and were often really expensive.

As we progressed, we went from buying the standard design from factories to customizing our orders to suit the local market demands. We have learnt a lot through your feedback! One thing led to another, and now, Movement First is the leading business in Singapore for Strength and Conditioning Equipment.
We invite you to look through our equipment and discuss your particular needs with our passionate staff.